2020 Colours of the Year
Get ready to be inspired by this year's tile selections to correspond with the Benjamin Moore 2020 Colour Trends. With 10 palettes to choose from, you're bound to find a colour trend that is suited to your taste and home.
1. Danube Blue
Danube Blue showcases the versatility of a deep dramatic colour. Adding this pop of blue to flooring, cabinetry or a backsplash will add depth and dimension while giving any space the wow factor you've been looking for.
Featured:
Steel Tech Anthracite - 24" x 24"
Cement Encaustic London Combo - 8" x 8"
Circa 37 Ocean - 4" x 15" - View Product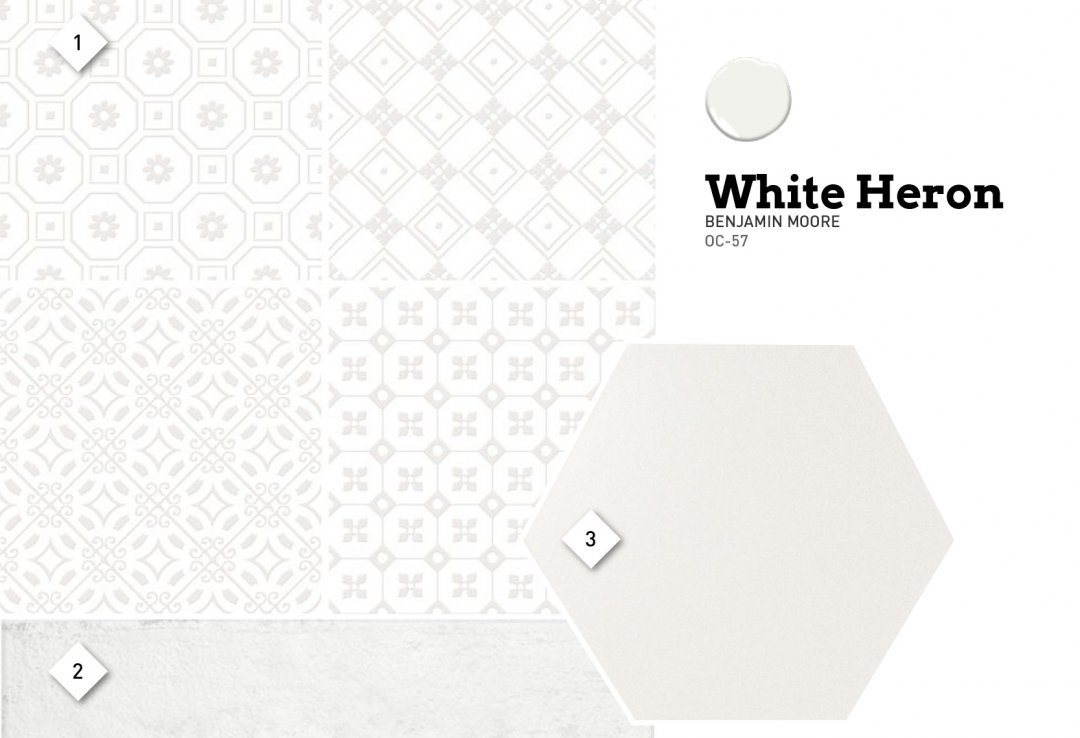 2. White Heron
White Heron is a warm white that gives any space a classic feel. Play up this colour with different layers of textures as seen in the Unica Bon Ton White on White 8" x 8" Tile.
To keep this colour from looking boring, try incorporating different shapes like the Scale Hex White and Eden Bianco subway tile.
Featured:
Unica Bon Ton White on White (Ciot) - 8" x 8" - View Product
Eden Bianco Sat (Ciot) - 2.75" x 11" - View Product
Scale Hex White Matte (Ciot) - 4" x 5" - View Product
3. Cushing Green
Cushing Green, a traditional historic green, can be brought into this decade with a beautiful geometric patterned encaustic tile. This is a great standout application for floor or wall.
You can play up your space with this timeless green by bringing in natural stone like a green quartzite that gives a whole new level of richness with its natural beauty.
Featured:
Peter - 8" x 8"
Equipe Magma Malachite - 2.5" x 8"
Avogado Polished (Ciot) - custom sizes available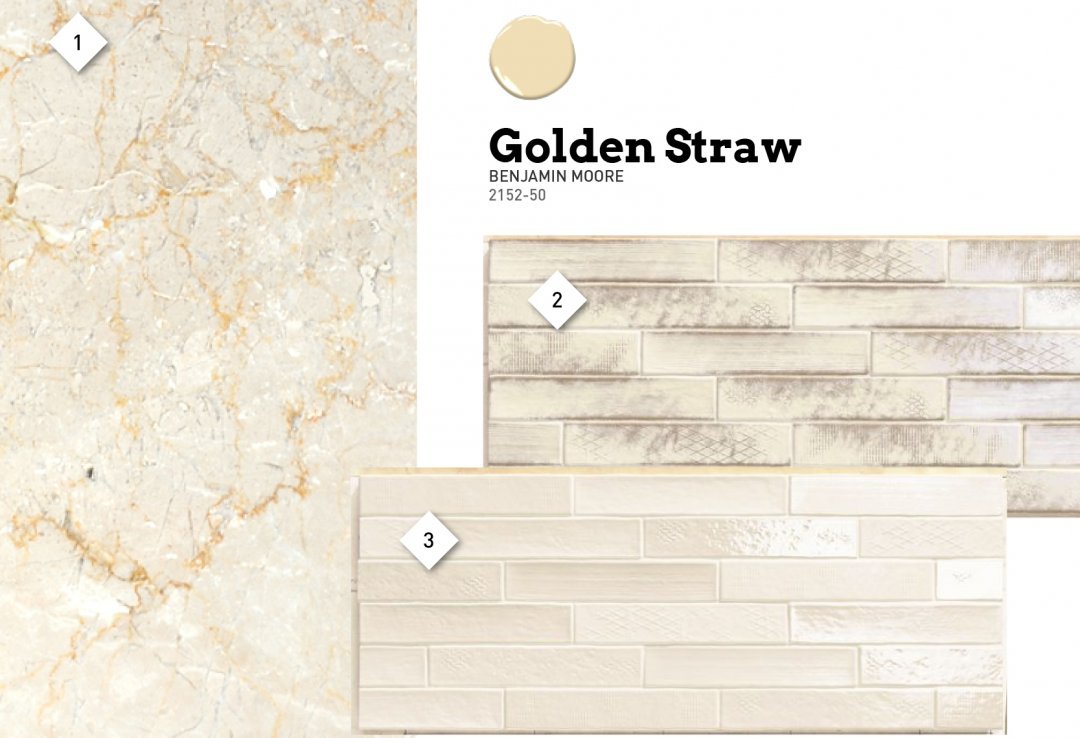 4. Golden Straw
Golden Straw is a warm yellow tone to brighten and cheer up any space. If you are not ready to commit to full on yellow, try a muted version like the classic Marble Botticino or light cream backsplash like the Atelier Antique or Cotton.
Featured:
Marble Botticino Polished (Olympia Tile) - 12" x 12"
Atelier Antique (Ciot) - 2" x 10" 
Atelier Cotton (Ciot) - 2" x 10"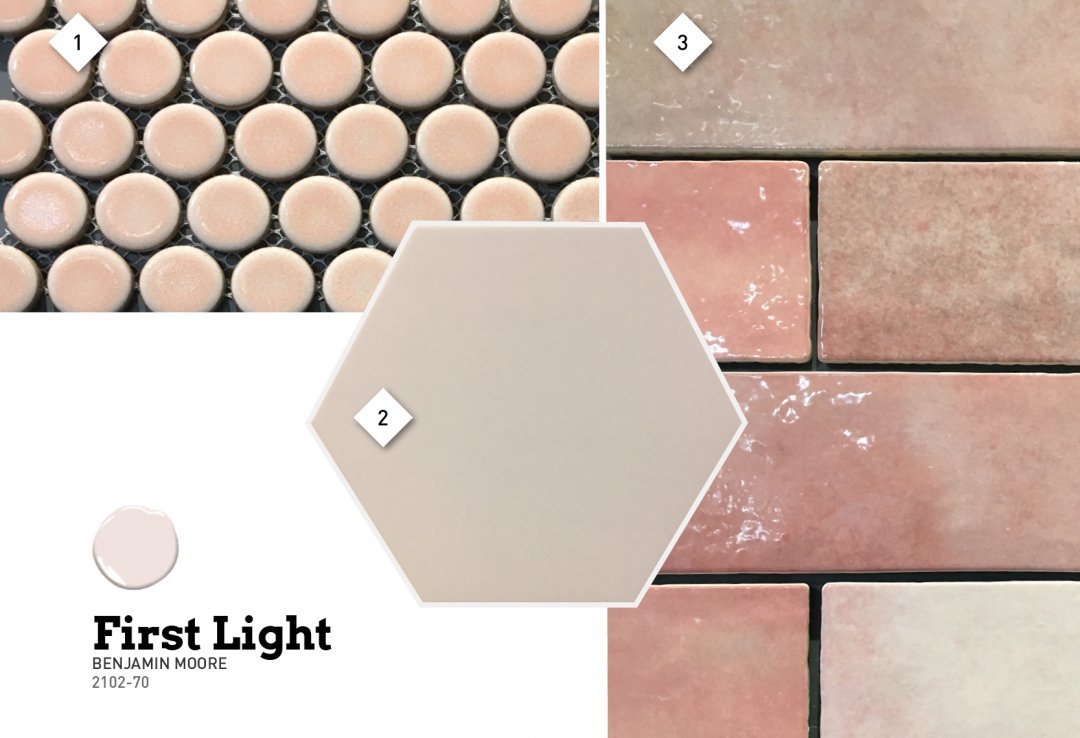 5. First Light
At first glance, First Light can be quite a cheeky pop of pink, but finding beautiful soft tones of pink can bring in a subtle colour to your space. This colour can easily be added to your floor or wall to create a warm earthy feel without being too trendy. It works nicely as a pop of colour or holding itself as a full feature.
First Light pairs nicely with different tones of metals as well as warm or cool colours. A great wall colour can ground the pink tone or a warm ash wood floor or cabinetry will bring out some of the depth of this versatile colour.
Featured:
HP Penny Rounds Rose - 1" x 1"
Cervica Goodvibes Pink Hexagon - 6" x 6" 
EC Artisan Pink - 2.5" x 8"
6. Windmill Wings
Windmill Wings is a cheery blue that can brighten any room. You can add a touch of colour to a backsplash with a simple penny round or elongated hexagon, allowing some fun in your kitchen. If you are desiring more of a classic look, an encaustic tile with a combination of grey, white and the whimsical blue adds some life to any floor.
Featured:
Encaustic Lilou Ocean - 8" x 8" - View Product
Picket Fence Light Blue - 12" x 12" Mosaic 
Penny Rounds Baby Blue - 1" x 1"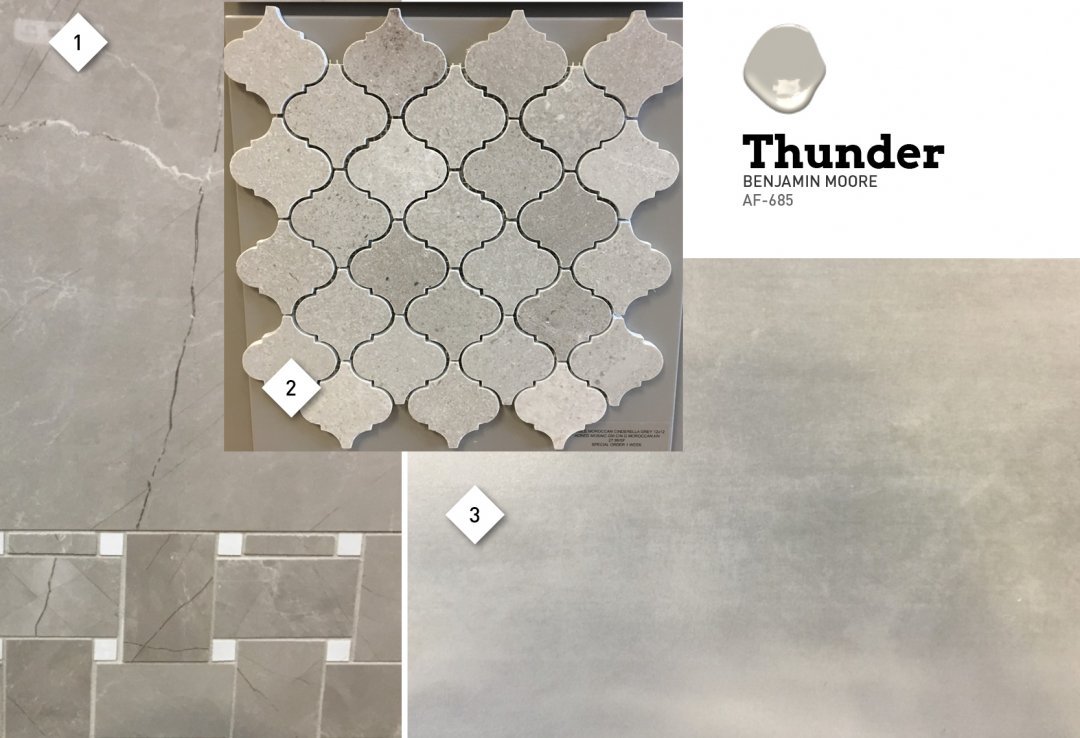 7. Thunder
Thunder is a great colour to introduce warmth in your space. This shade has a beige undertone setting the stage to warm this grey tone right up. It's an ideal transition colour that pairs nicely with pops of different colours and wood tones.
Use it in an industrial, modern application such as a concrete look floor or in a rustic, traditional style with a Cinderella marble backsplash.
Featured:
Boutique HBO 5 Grey with coordinating basket weave - 12" x 24"
Moroccan Cinderella Grey Marble Mosaic - 12" x 12" - View Product
Leghe Plantino - 12" x 24"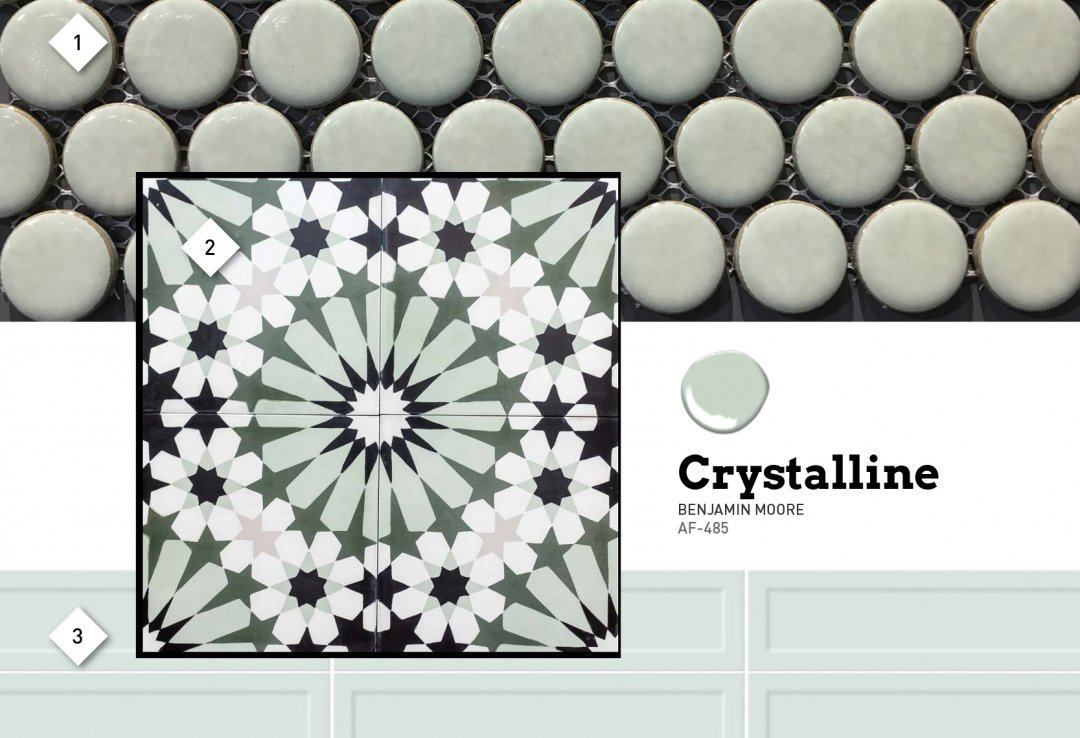 8. Crystalline
Crystalline is a fresh take on a mid-century green. It can liven up any space with a bold print encaustic tile, grabbing the attention of your visitors in a powder room. You can easily use Crystalline in a more subtle way also as this colour can come across serene and restful with a brick or penny tile. Pairing a simple shape tile with this colour allows it to softly whisper as a beautiful backdrop for any space. 
Featured:
HP Penny Rounds Light Green - 1" x 1"
Casablanca Green - 8" x 8" 
Cristallo Aqua Glossy - 3" x 12"
9. Oxford Gray
Oxford Gray is a saturated colour that brings depth and character to your space. There are so many unique tiles that allow you to bring this colour into your home. If your style is a little more modern, having a eye-catching 3D wall tile in a geometric shape can you bring you straight into 2020 design trends. For more eclectic taste, having a printed encaustic or hand-made looking tile will showcase the softer side of this deep colour.
Featured:
Crayons Storm - 3" x 12" - View Product
Wharfs Storm Hexagon (Urban Zebra) - 10" x 12" - View Product
HRG Hudson Sky Décor Wall Tile (Euro Tile) - 7" x 8"
Encaustica Porcelain Lilou Ocean (Urban Zebra) - 8" x 8" - View Product
10. Buxton Blue
Buxton Blue is a great calming colour for any space when paired with neutrals for a softer look. Pair the bold encaustic tile with a white subway or make a statement with a tile accent wall using Magma Aquamarine or Cristallo Glass in sage.
Featured:
Cristallo Glass Sage Mini Brick (Olympia Tile) - 0.6" x 1.9"
Magma Aquamarine (Euro Tile) - 2.5" x 8" 
Encaustica Porcelain Monaco (Urban Zebra) - 8" x 8" - View Product